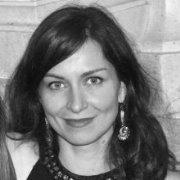 sgalunder at sift dot net
M.S., Cultural Anthropology, Lund University, Sweden
B.S., Psychology/Neuroscience, Lund University, Sweden
Mrs. Schmer-Galunder's works on the development of mobile applications merging evidence-based psychological theories with new technologies to provide creative solutions for behavioral problems related to health and lifestyle. 
She is the co-PI of NAPP, a 3D-role playing adventure gaming app addressing the need to improve sleep hygiene among active duty service members. NAPP is based on experimentally validated behavioral change models and provides stage-matched, tailored feedback as part of an engaging game narrative. NAPP is funded by the Telemedicine & Advanced Technology Research Center of the US Army. 
Mrs. Schmer-Galunder was the PI of CALM, a mobile app integrating Anger Management Therapy and physiological monitoring of heart rate variability (HRV) to help identify personal triggers and provide appropriate coping strategies. CALM was funded by the Telemedicine & Advanced Technology Research Center of the US Army. 
Mrs. Schmer-Galunder has previously worked on ADMIRE, integrating psycholinguistic approaches to detect social dynamics in written text, ELADIS where she worked on the data collection and analysis of physiological and behavioral data, as well as on AD ASTRA, a NASA funded project, for which she worked on the identification of factors impacting psychosocial states during long duration space missions.
Prior to working at SIFT, Mrs. Schmer-Galunder was employed as research scientist at the Social, Cognitive and Affective Neuroscience Lab of Dr. Ed Smith, Dr. Tor Wager and Dr. Kevin Ochsner at Columbia University, where she worked on several projects investigating the interaction between the neural basis of emotion perception and bodily expressions. Her work has involved the psychology of emotional behavior and brain activity (measured with functional magnetic resonance imaging) and its relation to peripheral physiology, including measures of autonomic and endocrine activity, in particular under perceived psychosocial stress. 
Mrs. Schmer-Galunder worked on research of stress resilience to post traumatic stress disorder (PTSD) among 9-11 terror attack survivors, a study investigating why psychological and neural mechanisms render some individuals resilient in the face of trauma. Other projects involved the influence of social context information on emotional processing and the influence of placebo effects on cognition. 
In 2006, she worked at the Davachi Memory Lab at New York University on the experimental development with the goal to understand the role of the hippocampus in transitive inference judgments for social dominance relations.
Mrs. Schmer-Galunder also works with Latent Semantic Analysis (LSA) and the use of LSA as an objective measure of valence in large  text corpora. She has contributed to developing new software using LSA for the generation of semantic spaces, featuring an integrated set of tools for studying, creating, collecting and visualizing semantic spaces (with Prof. Sverker Sikstroem at Lunds University).