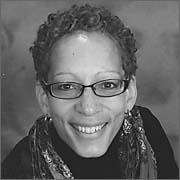 Ph.D., Spanish, Stanford University, 1990
M.A., Spanish, Stanford University, 1985
B.A. in Foreign Languages & Literatures: Spanish and German Whitman College, Walla Walla, WA
Dr. Bell is a co-owner of SIFT, and Chair of the Modern Languages department at Hamline University.
Selected Publications:
Andrea Bell and Yolanda Molina Gavilán, editors and principal translators. Cosmos Hispanos: Science Fiction From Latin America and Spain (A Critical Anthology). Provisionally accepted for publication by Wesleyan UP.
Latin American Science Fiction: A Sourcebook. Darrell Lockhart, ed. Forthcoming from Greenwood Press. Co-authored (with Yolanda Molina Gavilán) introductory essay and wrote bio-bibliographical articles on the following authors: Ernesto Silva Román, Pepe Rojo, Bernardo Fernández, Ricardo Guzmán Wolffer, Irving Roffé, Enrique Araya, Julio Assman, Jorge Cubría, David Perry and Michel Doezis.
Yolanda Molina Gavilán, Andrea Bell, Luis Pestarini, and Miguel Angel Fernández. "Cronología de la ciencia ficción de lengua hispana." Chasqui: Revista de Literatura Latinoamericana. Translation of article has been accepted for publication by Science Fiction Studies.
"Science Fiction in Latin America: Reawakenings." Science Fiction Studies 26 (1999): 441-6.
Andrea Bell and Moises Hasson. "Prelude to the Golden Age: Chilean Science Fiction from 1900-1959." Science Fiction Studies 25 (1998): 285-99.
"El cuento breve venezolano contemporáneo." Revista Interamericana de Bibliografía 46 (1996): 123-45. This is a special issue dedicated to the microrrelato (very short story), edited by Juan Armando Epple.
"Creating Space in the Margins: Power and Identity in the cuentos breves of Pía Barros and Cristina Peri Rossi." Studies in Short Fiction 33 (1996):345-53.
"Desde Júpiter: Chile's Earliest Science Fiction Novel." Science Fiction Studies 66 (1995): 187-197.
"An Engaging Enterprise: Collaboration, Manipulation and Reader Response in Borges' El hacedor." Cincinnati Romance Review 13 (1994): 61-8.
Presentations and Professional Activities:
International Division Chair, International Conference on the Fantastic in the Arts, 2000-present. This is the largest annual professional meeting devoted to scholarship on fantastic literature and the arts.
Editorial consultant for Science Fiction Studies, 1999-present. Area of consultation: Spanish-language fantastic literature and film.
Panelist on a publishing roundtable at "Cubaficción 2000," a science fiction conference in Havana, Cuba; August 30, 2000.
Special guest at the "Third Annual Festival of Fiction and Fantasy" in Tlaxcala, Mexico, March 9-15, 1999. Gave talk on opportunities for publishing genre fiction outside of Mexico.
"Prelude to the Golden Age: Chilean Science Fiction from 1900-1959." 18th annual International Conference on the Fantastic in the Arts, Ft. Lauderdale, March 1997.
Organizer and chair of session on Latin American science fiction at the 17th annual International Conference on the Fantastic in the Arts, Ft. Lauderdale, March 1996.
"Some Notes on 120 Years of Latin American Science Fiction." Science Fiction Research Association meeting, June 22-25, 1995. In addition to presenting my research, I was a panelist during the session on "The State of International SF."
"Creando espacio en los márgenes: Poder e identidad en los cuentos de Pía Barros y Cristina Peri Rossi." XVIII LASA International Congress, Atlanta, March, 1994.
"Violando fronteras: Los cuentos breves de Gabriel Jiménez Emán." Annual meeting of the American Association of Teachers of Spanish and Portuguese, Phoenix, August, 1993.
"Reconfiguring the Familiar in Peri Rossi's El museo de los esfuerzos inútiles." 21st Annual Twentieth Century Literature Conference, University of Louisville, February, 1993.
Academic Grants and Honors:
Dean's Faculty Development Grant (1995, 1999, 2001)
Ford Foundation Professional Development Grant (2000)
Bush Collaborative Research Grant (1996, 2000)
Hamline University Faculty Development Grant (1992-94, 1996)
Dorothy Danforth Compton Fellowship (1989)
CRIS Dissertation Research Grant (1988)
LAS Pre‑Dissertation Research Grant (1984)
Stanford Fellowship (1982‑1986)
National Merit Scholarship (1978‑1982)
Phi Beta Kappa (1982)
Sigma Delta Pi (National Spanish Honor Society; 1982)
Teaching Experience:
1991 - Present: Associate Professor of Spanish and Latin American Studies, Dept. of Modern Languages and Literatures, Hamline University, St. Paul, MN. Frequently taught courses include:
advanced undergraduate courses on the literatures of contemporary Latin America as well as Spain's Generation of '98.
advanced undergraduate course on Latin American history, politics, economics and society.
advanced undergraduate course on Latin American popular culture
Spanish language (beginning and intermediate levels)
1990 ‑ 1991: Spanish language instructor, Normandale Community College, Bloomington, MN.
1984 ‑ 1988: Teaching Fellow, Stanford University.
Special Research and Initiatives
Frequent travel to Latin America (including Cuba in 2000) to conduct field research on popular culture and to do archival research and author interviews in support of my scholarlship on regional fantastic literature.
2000-Present: Negotiated terms of new bilateral exchange program between Hamline University and the Universidad Austral de Chile (Valdivia). Program includes faculty and student exchanges as well as media internships in support of Hamline's Certificate in International Journalism.
May-June, 1996: Completed week-long seminar in Santiago (Chile) on "Economic Reform, Free Trade and Democratization in Chile," organized by CIEE and by FLACSO (Facultad Latinoamericana de Ciencias Sociales). Course lectures and site visits covered a wide range of issues concerning, among other topics, regional trade alliances, military-civilian relations, economic development, environmental protection, and social equity in Chile. This seminar supported my teaching in the Latin American Studies program, and was the foundation of a case study on Chile's association with NAFTA and MERCOSUR which I wrote in collaboration with a Hamline undergraduate.
Languages: Spanish (fluent); German, Portuguese (conversational); French (reading ability).