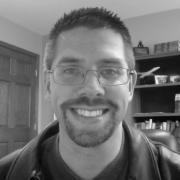 B.S., Aerospace Engineering and Mechanics, University of MN, 1999
M.S., Aerospace Engineering and Mechanics, University of MN, 2000
Ph.D., Aerospace Engineering and Mechanics, University of MN, 2013
Dr. Mueller specializes in control systems and trajectory optimization. For his doctoral thesis, he developed optimal ascent trajectories for stratospheric airships. His active research interests include robust optimal control, adaptive control, applied optimization and planning for decision support systems, and intelligent systems to enable autonomous operations of robotic vehicles. 
Prior to joining SIFT in early 2014, Dr. Mueller worked at Princeton Satellite Systems for 13 years. In that time, he served as the principal investigator for eight Small Business Innovative Research contracts for NASA, Air Force, Navy and MDA. He has developed algorithms for optimal guidance and control of both formation flying spacecraft and high altitude airships, and developed a course of action planning tool for DoD communication satellites. 
In support of a research study for NASA Goddard Space Flight Center in 2005, Dr. Mueller developed the Formation Flying Toolbox for Matlab, a commercial product that is now used at NASA, ESA, and several universities and aerospace companies around the world.
In 2006, Dr. Mueller developed the safe orbit guidance mode algorithms and software for the Swedish Prisma mission, which has successfully flown a 2-spacecraft formation flying mission following its launch in 2010.
Dr. Mueller also serves as an adjunct professor in the Aerospace Engineering & Mechanics Department at the University of Minnesota, Twin Cities campus.