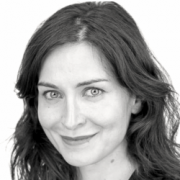 sgalunder at sift dot net
M.S., Social Anthropology, Lund University, Sweden
B.S., Psychology/Neuroscience, Lund University, Sweden
Ms. Schmer-Galunder's research focuses on merging social science with AI and technological innovations.  In 2018, she won a total of $ 4M in funding to develop novel approaches in the areas of 1) team dynamics and social sensing of human and human-cyber teams under high stress, 2) ML bias and the influence of socio-cultural contexts inherent in big data and 3) text analysis and how language is weaponized to influence social groups.
She is the PI of MARGARET (Multidimensional Algorithm Generated Anthropological Recording and Ethnographic Tool) under DARPA's UGB program. Under Margaret we work with Dr. Jure Leskovic and his team at Stanford University using computational social science methodologies in order to explain gender biases in big data.
She is the PI of MEDULLA (Monitoring Emergent Duress Under Long-Lasting Allostasis), a Phase 2 SBIR investigating how collective allostatic load impacts team performance.  For this project, we work with NASA's Behavioral Health & Performance Laboratory at JSC, the Blue Planet Research Foundation and Ketone Technologies.  Under 2019-2020 we will run 4 1-month long simulation studies at the HI-SEAS habitat in Hawaii and will participate at the NEEMO underwater analog.  We will collect data in order to develop novel metrics that can help identify how social variables influence team performance.
She is the PI of TYBALT (Transcending cYber Barriers with Automated Language Tracking), a Phase 2 SBIR which uses NLP methodologies to detect intentions to act adversely towards the US as well as unveil how cognitive strategies are used for manipulated cyberwarfare.
She is the PI of VANESSA (Virtual Analysis Networks and Explanations for Social Sensing Analysis), a Phase 1 STTR with the goal to develop a social sensing platform that can provide diagnostics of multiteam networks and recommendations for enhanced team functioning in human-cyber teams. Our academic partners are at John Hopkins University and the Cognitive Sciences Laboratory at the University of Central Florida.
She is involved with DARPA's SocialSim Program and associated efforts like PERFECTA and ACUMEN. Previous projects that Sonja led include NAPP, a 3D-role playing adventure gaming app addressing the need to improve sleep hygiene among active duty service members and CALM, a mobile app integrating Anger Management Therapy and physiological monitoring of heart rate variability (HRV) to help identify personal triggers and provide appropriate coping strategies.
She had also worked on ADMIRE, integrating psycholinguistic approaches to detect social dynamics in written text, ELADIS where she worked on the data collection and analysis of physiological and behavioral data, as well as on AD ASTRA, a NASA funded project, for which she worked on the identification of factors impacting psychosocial states during long duration space missions.
Prior to working at SIFT, she was employed as research scientist at the Social, Cognitive and Affective Neuroscience Lab of Dr. Ed Smith, Dr. Tor Wager and Dr. Kevin Ochsner at Columbia University, where she worked on several projects investigating the interaction between the neural basis of emotion perception and bodily expressions. She worked on research of stress resilience to post traumatic stress disorder (PTSD) among 9-11 terror attack survivors, a study investigating why psychological and neural mechanisms render some individuals resilient in the face of trauma. Other projects involved the influence of social context information on emotional processing and the influence of placebo effects on cognition.