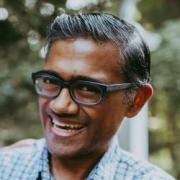 Ph.D., Computer Science and Cognitive Science, Tufts University
J.D., Law, Boston University School of Law
M.S., Electrical Engineering and Computer Science, Massachusetts Institute of Technology
B.S., Electrical Engineering, University of Arkansas
Dr. Sarathy is a SIFT Senior Research Scientist specializing in Artificial Intelligence. His research involves developing multimodal language and vision-based AI approaches to assist humans with complex tasks requiring reasoning, creativity, and alignment with social and ethical norms. He adopts a multidisciplinary approach that formalizes and operationalizes social and cognitive science theories for building human-aware and interactive systems. 
His current research explores techniques for automating tasks in the following domains:
Argumentation and Negotiation Support: extracting and evaluating argument structures from persuasive communications (with DARPA HABITUS, DARPA SCORE)
Social Media Content Moderation: enhancing pro-sociality and mitigating anti-sociality in online social media forums during disasters and humanitarian crises (with DARPA Civil Sanctuary)
Cultural Causal Modeling: inferring causal models of culturally-specific human decision-making involving implicit socio-cultural norms (with DARPA HABITUS)
Resourceful Robots: enabling knowledge-guided perception, action, and decision-making (with DARPA SAIL-ON)
Humor and Cartoon Generation: generating jokes, images, and captions for cartoons and monologues 
Dr. Sarathy was selected as the Grand Prize Winner of the NSF 2026 Idea Machine Competition and established Creative Problem Solving as an NSF research priority. He has made technical contributions to natural language processing, knowledge representation and reasoning, computational creativity, human-robot interaction, reinforcement learning, and symbolic planning. 
Before joining SIFT, Dr. Sarathy conducted research with the Human-Robot Interaction Laboratory at Tufts University.  He received the John and Dorothy Adams Graduate Fellowship to support his dissertation research on designing AI systems capable of representing human moral and social norms and using norms to understand natural language. Dr. Sarathy is also a licensed attorney in the State of Massachusetts and practiced Intellectual Property law for nearly a decade at the law firm of Ropes & Gray. 
His publications can be found here at Google Scholar