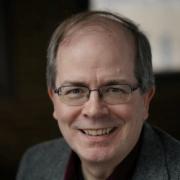 M.S., Computer Science, University of Minnesota
Mr. Thomsen's career has focused on computer security research ranging from high assurance operating systems, multilevel database security, and security policy management. Mr. Thomsen has also contributed research into the effective communication of ideas from one person to another. At SIFT, Mr. Thomsen works to improve the effectiveness of computer security using artificial intelligence and human factors research to manage the complexity of modern computer security mechanisms.
While at SIFT, Mr. Thomsen has been the principal investigator on presentation tools for more effective information transfer in presentations, massive collaborative problem solving, and discovering real world attributes of people attacking systems. He currently leads the SAGA effort to aid veterans with PTSD by telling their story through comics. The SAGA project develops the technology to monitor and control the intensity of the experience for the veteran.  Mr. Thomsen also recently lead research into tools to create security enforcement policy that spans all the enterprise's security mechanisms. The program successfully created security policy specifications that could be shared like open source software and automatically translated to a variety of enforcement mechanisms.  
Working on a DARPA program to explore alternatives to PowerPoint, Mr. Thomsen developed a complete workflow for creating more effective presentations and designed cognitive transformations improved the audience's ability to infer information from the presentation.
Mr. Thomsen focuses on turning research ideas into working prototypes that validate the key innovations of the approach. He has published over twenty-five technical papers on computer security topics; including security policy management and design patterns for computer security. Mr. Thomsen has been the conference and program chair for the Annual Computer Security Applications Conference (ACSAC). Mr. Thomsen has been involved in international conferences by being on the program committee for several conferences and workshops including: ESORICS, SPatterns, and IFIP 11.3 Data and Applications. Mr. Thomsen has participated in fourteen different National Science Foundation panels to evaluate proposals on computer security research. He is a senior member of IEEE.