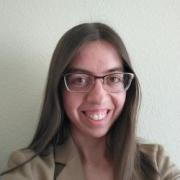 Ph.D., Computer Science, University of Illinois at Urbana-Champaign, 2020
B.A. with Honors, Computer Science, Gustavus Adolphus College, 2014
B. A., Mathematics, Gustavus Adolphus College, 2014
Dr. Wauck specializes in Human-Computer Interaction and Cognitive Science research. Her more specific research interests include games and play, motivation, educational psychology, cognitive training, and visualization. She is particularly passionate about making complex systems understandable, intuitive, and fun to use for novice and non-technical users.
Dr. Wauck has published and presented research at the ACM conferences CHI, CHI PLAY, and IUI. Her dissertation research focused on designing computer games to measure and train players' spatial reasoning skills, with the end goal of preparing students for STEM coursework and careers in which spatial reasoning skills are essential for success. Her dissertation work produced an open source game, Homeworld Bound, that can measure players' spatial skills and serves as a testbed for analyzing the effect of different game mechanics on spatial skill training effectiveness.
Her external webpage, including publications, can be found at wauck2.web.engr.illinois.edu.