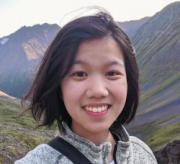 B.S. Computer Science with Linguistics minor, University of Minnesota Twin Cities, 2019
Joan Zheng is a Researcher at SIFT working in the intersection of artificial intelligence and natural language processing. She first got involved in research in 2017 at Professor Maria Gini's lab, where she studied and developed dialogue systems tuned towards the medical domain. As an undergraduate, she has co-authored several papers at AAAI and has presented her work at the Grace Hopper Celebration. Upon graduating in 2019, Joan continues to develop her research career at SIFT.
In her free time, Joan enjoys rock climbing and indoor gardening.