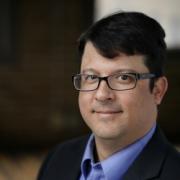 jgottlieb at sift dot net
Ph.D., Computer Science, University of California - Santa Cruz
Ph.D., Psychology, Carnegie Mellon University
M.S., Psychology, Carnegie Mellon University
B.A., Computer Science and Psychology, Carleton College
Dr. Gottlieb specializes in Artificial Intelligence and Human/Automation Interaction. His specific research interests are in automated planning, machine learning, and human adaptive systems (systems that adapt behavior to feedback from human users). Dr. Gottlieb's research has involved applications to robotic foraging and path planning and machine learning/data mining approaches to allowing autonomous recognition of oceanographic processes.
Prior to joining SIFT, Dr. Gottlieb conducted research at the Autonomous Systems Laboratory at UC Santa Cruz and collaborated with the autonomy group at the Monterey Bay Aquarium Research Institute. He has presented research at the IEEE International Conference on Robotics and Automation,
AAAI Spring Symposia, Cognitive Science Society, and Association for Psychological Science.