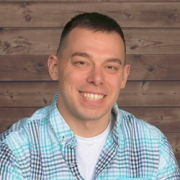 mvalovage at sift dot net
Ph.D., Computer Science, University of Minnesota
M.S., Computer Science, University of Minnesota
M.S., Bioinformatics, University of Maryland, University College
B.S., Computer Science, Rose-Hulman Institute of Technology
Dr. Valovage is a SIFT Research Scientist specializing in applied machine learning and artificial intelligence.  His Ph.D. thesis focused on improving machine learning methods for time series applications.  First, his thesis work explored enhancing electricity disaggregation methods to operate in a completely unsupervised environment, enabling devices to be deployed with minimal consumer setup.  The second part of his thesis introduced methods to improve classification accuracy of time series shapelets through selective z-normalization and learning new, custom distance metrics for each shapelet.  Additional research interests include feature extraction, time series forecasting, bioinformatics, general game playing, and spatiotemporal data analysis.
Mark secured $1 million in funding for HeterOgeneous Library for Multiagent Engagement Scenario (HOLMES) as part of DARPA's Non-Escalatory Engagement to reduce Dimensionality (NEED) Disruptioneering Opportunity.  As HOLMES PI, he led the creation of autonomous engagements and development of key user interface enhancements to help Mission Commanders identify hostile intent in urban areas in a variety of cultural and scenario settings.
Mark is also an infantry Major in the Minnesota Army National Guard.  He has 17 years of military experience, including 7 years active duty experience.  He has completed two year-long deployments to Kuwait in support of Operation Iraqi Freedom III and Operation New Dawn.  He has received numerous awards including the Expert Infantry Badge and is a graduate of Army Ranger School, the Army's premier school on small unit leadership and tactics.  Major Valovage is currently a Division Battle Major in the 34th Infantry Division has staff experience at battalion and brigade levels in decisive action training environments..  His prior leadership positions include Armor Company Team Commander, Headquarters Company Commander, Company Executive Officer and Platoon Leader.