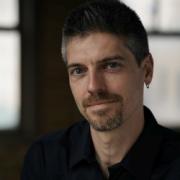 B.S., Computer Science, University of Minnesota, 1999
Mr. Rye is a Senior Scientist at SIFT, responsible for designing and developing user interfaces and software solutions.  Mr. Rye joined SIFT in 2008 after working at Honeywell's research labs for 9 years. He has designed and implemented numerous novel user interfaces across multiple domains including: advanced avionics displays, displays for first responders to access building and fire information, security kiosk interfaces, an automated interface management and assessment tool (MAID), displays of network secturity information, visualizations of social relationships (ADMIRE), a web-based comic-driven game for PTSD sufferers (SAGA), and concepts for managing heterogenous teams of UAVs (SuperC3DE).
In addition, Mr. Rye focuses on creating robust, reliable, and maintainable software systems.  Mr. Rye contributed to the design and development of several automated reasoning systems.  Specifically, he led the development of: MAID, ADMIRE, and SIFT's integrated demonstrations of CLiC (which drew on Sparser and Mumble).  In addition, Mr. Rye acted as the deputy PI and software architect for SIFT's Fuzzbuster project.  Recently Mr. Rye led the development of the executive and integrated test environments for SIFT's Distributed Battle Management project.
Mr. Rye has been awarded 14 patents for his design work.