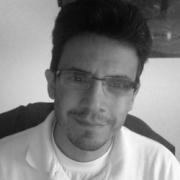 Ph.D., Computer Science, University of Maryland, College Park, MD, 2006
B.S. / M.S., Computer Engineering, Middle East Technical University, Ankara, 1998 / 2000.
Dr. Kuter is a SIFT senior scientist specializing in Artificial Intelligence. He is also serving as the Section Editor for "Intelligent Systems" in Encyclopedia of Complexity and Systems. Dr. Kuter's primary research activities focus on problems that are primarily on Automated Planning and Learning and related to Cyber Security, Programming Languages, Semantic Web Service Composition, Social Networks, Game Theory and Evolutionary Computation. Dr. Kuter's research focuses on scenarios that involve uncertainty, nondeterminism, numeric and discrete components, multiple actors, and social behavior.
Recently, Dr. Kuter has led and successfully completed SIFT's effort, entitled "HACKAR: Helpful Advice for Code Knowledge and Attack Resilience," for the ONR's "Computational Methods for Decision Making" program. He is currently key personnel on the SIFT efforts on the DARPA's "Mission-oriented Resilient Clouds (MRC)" and "Collaborative Operations in Denied Environment (CODE)" programs, developing formalisms and algorithms for probabilistic plan recognition, diverse planning, hierarchical plan repair, and plan-critiquing systems in highly dynamic mixed-initiative environments.
Prior to joining SIFT, Dr. Kuter was a Faculty Research Scientist at University of Maryland. He has more than 80 peer-viewed research publications, including several best papers. Dr. Kuter's work on "Social Trust based Web Service Composition" won the Best Paper Award at ISWC-09, one of the predominant conferences on Semantic Web. His paper "Using Probabilistic Confidence Models for Trust Inference in Web-Based Social Networks" was ranked in the top %5 of all accepted papers at AAAI-07, one of the top AI conferences. His work on the RFF automated-planning system has received the "Winner of the 2008 International Planning Competition -- Planning under Uncertainty, Full-Observable Planning Track" award. At the University of Maryland, he participated the University of Maryland's successful contributions to the DARPA's Integrated Learning and the Transfer Learning programs. For a complete list of Dr. Kuter's publications, please visit: http://sites.google.com/site/ukuter/
Prior to joining SIFT, Dr. Kuter was a Faculty Research Scientist at University of Maryland, Institute for Advanced Computer Studies. He has advised several graduate students, including four PhD dissertations, two M.Sc. theses, and two independent studies.
Dr. Kuter has been a regular reviewer/program committee member for several international conferences and journals, including IJCAI, AAAI, ICAPS, IEEE Intelligent Systems, Artificial Intelligence Journal, and Journal of Artificial Intelligence Research, IEEE Transactions on Knowledge and Data Engineering. He has been the co-chair/co-organizer of the following technical events:
The AAAI-15 Fall Symposium on Self Confidence in Autonomous Systems, with Nisar Ahmed (U. of Colorado, Boulder), Chris Miller (SIFT), and Missy Cummings (Duke Unversity).
The ICAPS-14 Workshop on Models and Paradigms for Planning under Uncertainty: a Broad Perspective, held at the 24th International Conference on Automated Planning and Scheduling (ICAPS-14). June 2014.
The AAAI-11 Student Abstracts and Posters Program.
The AAAI-10 Student Abstracts and Posters Program.
StrucK-09: The IJCAI-09 Workshop on Learning Structural Knowledge from Observations, held at the 2009 International Joint Conference on Artificial Intelligence, Pasadena, California.
The ICAPS-07 Workshop on Artificial Intelligence Planning and Learning, held at the 2007 International Conference on Automated Planning and Scheduling in Providence, Rhode Island.