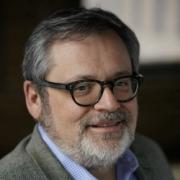 Ph.D. in Cognition and Communication Psychology from the University of Chicago, IL 1991
B.A., Psychology, cum laude, from Pomona College, CA., 1985
Dr. Miller has pioneered work in computational models of human etiquette and politeness perception and their applications for nearly 10 years. His initial work in this area grew out of interest in human interaction with complex automation systems, but has since grown to include human-human and cross-cultural models of the pervasive impacts of politeness. Dr. Miller has authored more than 25 conference papers, articles and book chapters on these topics including guest editing a special issue of Communications of the ACM and co-editing a book both on the topics of Human-Computer Etiquette. Dr. Miller has now managed eight projects at SIFT on this topic, providing sustained development and guidance for SIFT's Etiquette Engine(TM) and applying it in areas ranging from training games and simulations, to product design, to military intelligence analysis.
Dr. Miller has contributed extensively to SIFT's technological success, including winning and managing SIFT's roles on Independent LifeStyle Assistant (ILSA), and Mixed-Initiative Control of Automa-teams programs, as well as more than 25 additional programs. Prior to joining SIFT, Dr. Miller led a series of adaptive information management and human task modeling projects at the Honeywell Technology Center over a period of 11 years. He developed an intent-based policy visualization approach to enable airline dispatchers to determine how 'bad' a current or proposed situation might be. Dr. Miller led the Intuitive Policy Specification for Optimized Flow of Asynchronous C3I Transmissions in Operations (IPSO FACTO) program, creating the information management layer of DARPA's Agile Information Control Environment to assist battlefield commanders in managing their communications and networking assets. He was the principal investigator for Honeywell's role in the U.S. Army's Rotorcraft Pilot's Associate program developing and implementing an information management system to coordinate information presentation and task flow between two pilots and the advanced automation systems in a next-generation attack/scout helicopter. Dr. Miller won Honeywell's highest technical achievement award for his work in designing an associate-like system for use in oil refineries.
Dr. Miller's scientific interests include computational etiquette, adaptive and adaptable automation, human performance modeling, cognitive work analysis and associated modeling techniques, agent systems for adaptable (or mixed initiative) autonomy, and knowledge management approaches. Dr. Miller is the author of over 100 publications in these fields. He has served as chair of 15 conference sessions or symposia. Relevant publications are included in the references.